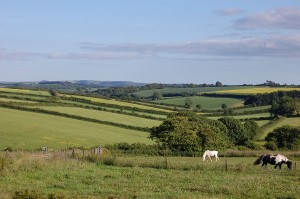 Our Forest Garden is, on the whole, well protected from the ferocity of the winds we can get on our farm. We have a tall hedge to the north that cuts out all the cold northerly winds in winter, and the SW prevailing wind has to get through hedges, trees and a bank before it reaches the Forest Garden.
There is one direction, however, that last winter has shown up to be our weak spot. This is from the south. Our farm slopes due south and gives us a beautiful vista up through a valley in front of us to distant rolling hills. This however, also equates to a funnelling of southerly winds right at us. We had already planted a number of trees to the south – rowan, elder and hazel, but not nearly enough to protect our precious garden from the wind.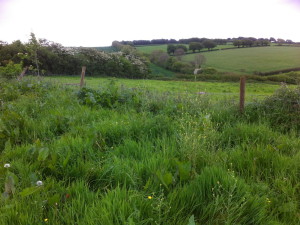 Having planted up our forest garden, and seeing everything flourishing, we were very aware there is now a need to plan a suitable wind break to the south…
Seeing as we had the space we decided to tackle the winds from outside the forest garden by moving the ageing boundary fencing and at the same time improve mowing access. This has given us space to add taller, quicker growing, wind tolerant trees positioned to lift the wind over the forest garden without overshadowing or taking nutrients from our edible trees.
Work started this weekend using our trusty old tractor (the OWL) – it has been an invaluable help lifting posts and grown-in fencing and mowing new paths into the now extended forest garden.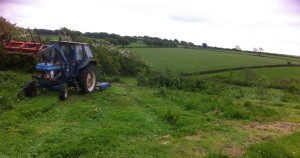 This extra space has really changed the feel of the forest garden and improved our access. Over the next week we'll aim to get all the new trees in position – fingers crossed the weather remains on our side…
Next week we'll include images showing the improved windbreak and plans showing the new design.