The Normans introduced coney-garths (rabbit yards) into England where they raised rabbits for their fur and meat. Often these were surrounded by wide moats to contain the rabbits.
Having raised rabbits for some time I have experimented with various systems to find the one that worked with our rabbits.  Our breeding rabbits have settled into a nice pattern based around our spacious barn based colony with plenty of privacy and nesting space.  Our growers though, we wanted to keep out naturally grazing on unlimited pasture from weening onwards.  As anyone who has kept a rabbit will know, fencing rabbits securely outside whilst giving them access to grazing is more of a challenge.  Also rabbits, who are quite capable of meeting all their food needs by foraging, can be less biddable than other small animals – like chickens!!
Initially we worked through various designs of rabbit tractor with integral living quarters.  The rabbits loved the freedom of these, but each design had its limitations, and we were not keen on the intensity of the grazing created by them.  This is when we started to think on a bigger scale.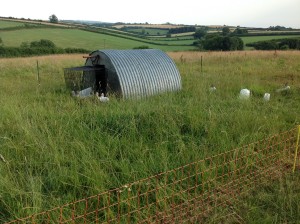 We wanted to create a modern day coney-garth that was easily movable and reliably rabbit proof, but without the need for a moat.  This was the challenge!
After some experimenting we think we have come up with a long term solution.  This is our latest design and the rabbits are very content with it.  We love this method of keeping the rabbits and they are right on the land benefiting the pasture.
Seeing the rabbits loose over this much space is wonderful and they can now express themselves in a more natural way – win-win!