Having taken a full growing season to observe and interact with my small aquaponic system I feel ready to expand. The first year's system has enabled me to obtain a yield in terms of both knowledge and vegetables which has been a very valuable part of my small and slow solution to aquaponics.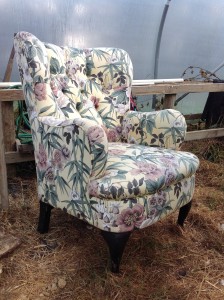 My initial design used a bell siphon.  This is not for any other reason than the geek in me wanted to create it.  In fact since the system has been in place we have put a table and chairs in the polytunnel so we can eat supper listening to the gurgle of the water, and I have a very comfortable arm chair right next to the system.  I think the cat appreciates it too, as I usually find her down there on my chair (though this may equally be down to its sunny location.)   Before creating my bell siphon, my research had already told me this was not the best way to build a system – but in this case I chose not to apply self-regulation and accept feedback, but to listen to my inner geek (let's hear it for living on the edge and valuing the margins!)
If you're new to aquponics then why it has captured me (as so many before) is its way of creating a symbiotic relationship between fish (and their waste) and the plants (and their feed needs).  In effect it produces no waste, water is continually circulated (so little is lost) and the fish poo creates the nutrition for the plant, everything integrated rather than segregated.
The value of catching and storing energy in this way was known to be done thousands of years ago by both Aztecs and Egyptians (though it was not called aquaponics then).  It is from this that the detail of modern aquaponics was designed using the pattern of the past.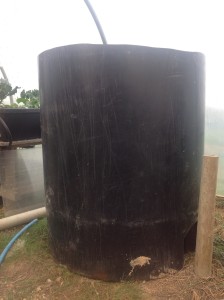 So to the design for my new system.
I really wanted to use and value renewable resources of the items we had lying around the farm.  One of the best finds for this was an old 1000 L orange juice container that had taken a crash and broken the top off it – a perfect fish tank!  We also had some dung board off-cuts left over from making a barn (ideal for the sides of grow beds), and the polytunnel already had sturdy wooden, level benching in place from its previous use as an alpine nursery.  To add to this was a lucky purchase off Ebay of a gorgeous roll top bath for a few quid.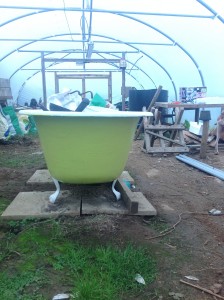 Initially I had planned to follow the pattern of my previous design and use a sump to allow for fluctuation in water levels caused by a flood and drain system without disturbing the fish.  But I only had one tank in the resources available and so decided to creatively use and respond to change in order to keep as close to what was available as possible.   I planned to have a lot more grow bed space this time and this meant a lot more water in the system, a big potential problem in any kind of flood and drain system as all that water needed to go somewhere in the drain cycle. However I went back to a field trial that had been carried out in Australia using three of the more popular systems and the constantly flooded system had performed consistently well through this trial.  With this as my pattern I have designed a system with no elements flood and drain (in what ever form)  However different plants have different needs so to use and value diversity the system will consist of:
A constantly flooded grow bed for a range of vegetables; some constant flow drain pipes/gutters for strawberries and herbs; and a constant flow bath tub with a peach tree and other vegetables.
In the meantime this is what it looks like now.  I think I need to stop observing for now and start to interact to make this a reality…